Spawn meets Breaking Bad in this new comic book filled with brutal super-villains and gorgeous fallen maidens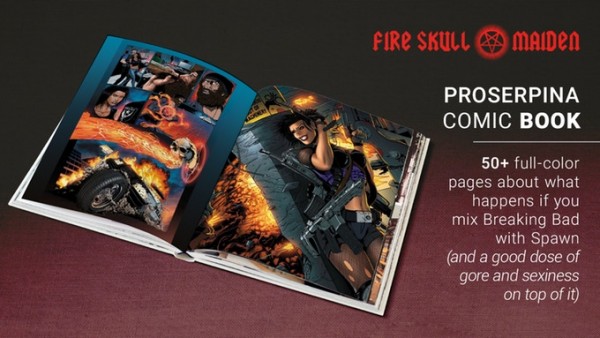 For those who are bored with the regular comic books with goody two-shoes superheroes and clichéd villains, this new comic book would be a delight. Instead of playing it safe with its storyline and graphics, this new comic book called Proserpina is revamping the good old comic book with a story filled with dark characters that takes the reader on a thrilling and exciting ride. Proserpina is first introduced on crowdfunding platform Kickstarter and features supervillains, evil maidens, and demons entwined in an exciting plot, which is certainly not for the kids!
Here's a brief summary of what Proserpina is all about,
"Meet Our Maiden: Valentina
When she discovers her mom has been battling cancer for two years and is now close to losing the fight, good girl Valentina breaks bad.
Knowing her mother's — the woman who raised her alone, without ever a complaint — only chance is an expensive treatment, something awakes inside her. She decides to rob a bank, no matter the consequences.
Once everything goes predictably wrong, and a group of corrupt cops decide to rough her up (and maybe worse) for fun, Valentina is saved by former-supervillain-turned-hobo Caligula. Seeing something in the desperate girl, Caligula decides to train her… and gets her to sell her soul to the devil, turning her in a Fire Skull Maiden.
As she's forced to commit unspeakable acts to keep her end of the bargain and save her mom, Valentina realizes being bad doesn't feel that bad.
In fact, it feels just right".
One can guess by the summary, that it is not the regular superhero comic, but instead a supervillain comic that is filled with brutality, gore, and action. Here's what the creator of Proserpina, "Mister X" has to say about his new comic book, "I have loved comics all my life, and have been writing and drawing them as a hobby for just as long. But lately, I feel the comic book industry is losing its edge. Mainstream comics are getting softer and safer, depriving fans of the hard-hitting stories many of us love. And that's why I'm committed to making Proserpina happen. It's just a good story of sexy, brutal villains and badass action".
Properpina will be available as a paper comic book only, with over 50 pages and vibrant illustrations. Mr. X has also invested $5000 of his own funds on this project and now needs help from the people to get this project into action. His goal is to raise $5000 from Kickstarter which will be used to build a team and cover the cost of printing and shipping of the comic book.
More information about Proserpina can be found on its official Kickstarter page.
Media Contact
Company Name: Proserpina
Contact Person: Mister X
Email: Send Email
Country: United States
Website: www.kickstarter.com/projects/765955767/proserpina