Epidemiology and Changing Market Dynamics of Schizophrenia in the Seven Major Markets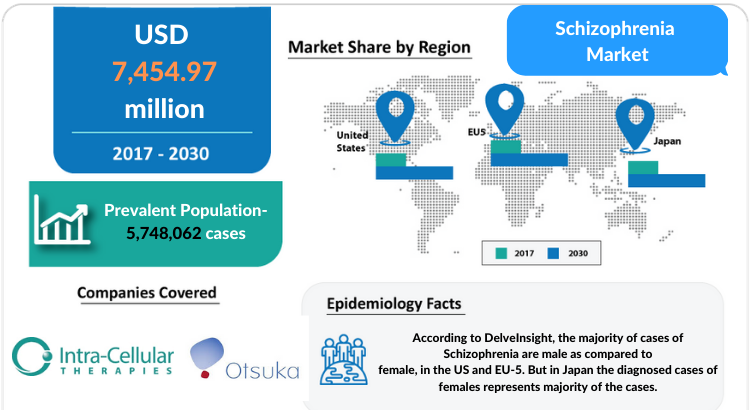 "Schizophrenia Market" report has been added to DelveInsight
Schizophrenia Overview
Schizophrenia is a serious mental illness that interferes with a person's ability to think clearly, manage emotions, make decisions, and relate to others. It is a complex, long-term medical illness, affecting about one percent of Americans.
Schizophrenia Market
DelveInsight's "Schizophrenia – Market Insights, Epidemiology, and Market Forecast-2030" report delivers an in-depth understanding of the Schizophrenia, historical and forecasted epidemiology as well as the Schizophrenia market trends in the United States, EU5 (Germany, Spain, Italy, France, and United Kingdom) and Japan.
Request free sample copy @ https://www.delveinsight.com/sample-request/schizophrenia-market-insight
Schizophrenia Market: Regions Covered
The United States
EU5 (Germany, France, Italy, Spain, and the United Kingdom)
Japan
Schizophrenia Key Players
Otsuka America Pharmaceutical/Lundbeck
Intra-Cellular Therapies
Sunovion Pharmaceuticals/ Sumitomo Dainippon Pharma
Merck/AbbVie/Schering-Plough Corporation/Allergan
Otsuka Pharmaceutical
Janssen Research & Development
And many others
Schizophrenia Drugs
Rexulti (brexpiprazole/OPC-34712)
Caplyta (lumateperone/ITI-007):
Latuda (lurasidone hydrochloride):
Saphris (asenapine):
Abilify MyCite (aripiprazole tablets with sensor):
Invega Sustenna (paliperidone palmitate):
Vraylar/Reagila (cariprazine):
And many others
Although schizophrenia can occur at any age, the average age of onset tends to be in the late teens to the early twenties for men, and the late twenties to early thirties for women. It is uncommon for schizophrenia to be diagnosed in a person younger than 12 or older than 40.
Schizophrenia Market Insights
Schizophrenia isn't caused by just one genetic variation, but a complex interplay of genetics and environmental influences. While schizophrenia occurs in one percent of the general population, having a history of family psychosis greatly increases the risk. Schizophrenia occurs at roughly 10% of people who have a first-degree relative with the disorder, such as a parent or sibling.
Schizophrenia Symptoms
With medication, psychosocial rehabilitation, and family support, the symptoms of schizophrenia can be reduced. Typically, a health care provider will prescribe antipsychotics to relieve symptoms of psychosis, such as delusions and hallucinations. Due to a lack of awareness of having an illness and the serious side effects of medication used to treat schizophrenia, people who have been prescribed them are often hesitant to take them.
Schizophrenia Market Size
The increase in market size is a direct consequence of increasing prevalent population of schizophrenia patients in the 7MM, USD 7,454.97 million in 2021
Schizophrenia Treatment Market
The major medications used to treat schizophrenia are called antipsychotics. They are generally effective for treating the positive symptoms of schizophrenia. Every person reacts a little differently to antipsychotic drugs, so a patient may need to try several before finding the one that works best. If a medication does help, it is important to continue it even after symptoms get better. Without medication, there is a high likelihood that psychosis will return, and each returning episode might be worse.
Current Major Schizophrenia Treatment Options
Risperdal (risperidone)
Abilify (aripiprazole)
Invega Trinza/sustenna
Rexulti (brexpiprazole)
Latuda (lurasidone hydrochloride)
Caplyta (lumateperone)
Request free sample copy @ https://www.delveinsight.com/sample-request/schizophrenia-market-insight
Table of content
1. Key Insights
2. Executive Summary of Schizophrenia
3. Competitive Intelligence Analysis for Schizophrenia
4. Schizophrenia: Market Overview at a Glance
5. Schizophrenia: Disease Background and Overview
7. Schizophrenia Epidemiology and Patient Population
8. Treatment Algorithm, Current Treatment, and Medical Practices
9. Unmet Needs
10. Key Endpoints of Schizophrenia Treatment
11. Marketed Products
12. Emerging Therapies
13. Schizophrenia: Seven Major Market Analysis
14. Attribute analysis
15. 7MM: Market Outlook
16. Access and Reimbursement Overview of Schizophrenia
17. KOL Views
18. Market Drivers
19. Market Barriers
20. Appendix
21. DelveInsight Capabilities
22. Disclaimer
23. About DelveInsight
Schizophrenia Market Drivers
Increasing Awareness
Pipeline Advancement
Growing Research and development
Long-acting Injectable Antipsychotics
Schizophrenia Market Barriers
Economic Burden
Significant Side Effects of Approved Therapy
Denial of illness
Co-occurring medical conditions
About Us
DelveInsight is a Business Consulting and Market research company, providing expert business solutions for life science vertical and offering quintessential advisory services in the areas of R&D, Strategy Formulation, Operations, Competitive Intelligence, Competitive Landscaping, and Mergers & Acquisitions.
Media Contact
Company Name: DelveInsight Business Research LLP
Contact Person: Yash Bhardwaj
Email: Send Email
Phone: +919650213330
Address:304 S. Jones Blvd #2432
City: Las Vegas
State: NV
Country: United States
Website: https://www.delveinsight.com/