Meniere's Disease: Overview, Treatment Market, Emerging Drugs and Key players
DelveInsight's "Meniere's Disease Market Insights, Epidemiology, and Market Forecast-2030" report delivers an in-depth understanding of the Meniere's Disease (MD) , historical and forecasted epidemiology as well as the Meniere's Disease market trends in the United States, EU5 (Germany, Spain, Italy, France, and United Kingdom) and Japan.
Meniere's Disease is one of the most common inner ear diseases characterized by episodic vertigo, sensorineural hearing loss, which fluctuates during episodes, tinnitus, and ear fullness.
How will Disease transform Meniere's Disease Market?
There is no cure for Meniere's Disease, so treatment focuses on managing symptoms. Hence ideal treatment aims to stop vertigo attacks, restore hearing, and eliminate tinnitus and ear fullness. Furthermore, all current treatment options are symptomatic with conventional treatments including salt restriction, diuretics and betahistine, intratympanic gentamicin and steroids, ablative surgical therapies endolymphatic sac surgery, and Meniett device.
Salt Restriction is essential as high salt intake can affect the concentration of electrolytes in the blood, which affects the composition of endolymph. The fluctuation in the composition and volume of endolymph contributes to the floating nature of symptoms experienced by people who have Meniere's Disease.
Betahistine is a weak histamine H1 receptor agonist and a potent histamine H3 receptor antagonist. It is suggested to enhance microvascular circulation in stria vascularis that decreases the endolymph pressure, and it inhibits vestibular nuclei activity that results in longer and more comfortable recovery. Betahistine is a famous agent in Europe and Japan. FDA does not approve its use in vertigo as it is not commonly used in the USA.
Other treatments widely used for Meniere's disease treatment market include diuretics. Thiazide group of diuretics is usually suggested. The cells that produce endolymph, such as dark cells and stria vascularis, contain carbonic anhydrase. Carbonic anhydrase inhibitors like acetazolamide are recommended in order to reduce the production endolymph. Besides these, Intratympanic gentamicin Injection is recommended, basically involving injecting the antibiotic gentamicin into the middle ear to help control vertigo. Gentamicin is an aminoglycoside antibiotic having more vestibulotoxic than cochleotoxic effect. It mainly causes atrophy on type 1 vestibular cells as well as the neuroepithelium. However, some doctors inject a corticosteroid instead, which often helps reduce dizziness and has no risk of hearing loss. It reduces the inflammation in the ear and increases labyrinth circulation.
Furthermore, Antihistamines, such as dimenhidrate, meclizine, benzodiazepines, and scopolamine, and anti-dopamines, which have antiemetic effects, such as metoclopramide and fenotiazines, are used to suppress the vestibular symptoms. These agents also have sedative effects that could help to reduce the patients' anxiety. Diazepam is also useful on GABA receptors in the vestibular nucleus and inhibits its response.
Besides these therapies, endolymphatic sac surgery on the endolymphatic sac of the inner ear is also suggested in some cases. A small amount of bone is eliminated from around the endolymphatic sac to decrease the pressure of the fluid in the sac.
Also, pulse pressure treatment, introduced by Medtronic involves the use of Meniett device (FDA approved for Meniere's Disease). The device fits into the outer ear and delivers intermittent air pressure pulses to the middle ear. The air pressure pulses appear to act on endolymph fluid to prevent dizziness. For patients with severe hearing loss, who do not react to other surgical and medical treatments, labyrinthectomy is typically the last choice for unilateral Meniere's Disease. The procedure involves removing vestibular end organs of five neuroepithelium: the three semicircular canals, the utriculus, and sacculus.
Meniere's Disease Emerging Drugs Analysis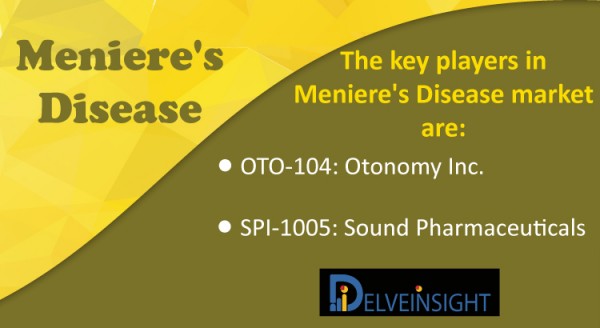 Currently, Otonomy Inc. and Sound Pharmaceuticals are involved in developing therapies. The launch of Meniere's Disease emerging therapies, such as OTO-104 and SP-1005 are expected to significantly impact Meniere's Disease treatment pattern in the upcoming years.
OTO-104 (Otonomy Inc.) is a sustained-exposure formulation of the steroid dexamethasone for Meniere's disease patients that has finished one successful Phase 3 clinical trial called AVERTS-2. Furthermore, an additional Phase 3 trial to support a submission for registration is ongoing. This trial remains the same primary efficacy endpoint, daily diary vertigo scale, use of a one-month lead-in period, and primary analysis at three months after a single treatment. The company plans to enroll approximately 160 patients, with the majority expected to be recruited in Europe, where the AVERTS-2 trial was conducted.
Additional steps have been taken to manage patient expectation bias and the placebo response including refinement of site selection criteria, emphasizing recruitment of well-characterized Meniere's patients known to the investigators, and careful management of clinical site communication with study U.S. has granted OTO-104 Fast Track designation by the U.S. for Meniere's disease treatment and other inner ear conditions.
Request for sample pages @ Meniere's disease Market Size
SPI-1005 (Sound Pharmaceuticals) is an investigational drug-containing ebselen, a small molecule that is a new chemical entity. Ebselen is a selenorganic compound that mimics and induces glutathione peroxidase (GPx) activity. GPx activity is critical to several cell types and tissues in the inner ear, retina, brain, lung, and kidney, and is regularly reduced during exposures to environmental insults. It is given orally and tested in several neurotologic indications, including noise-induced hearing loss and tinnitus, and two types of ototoxicity (hearing loss, tinnitus, dizziness, or vertigo) due to aminoglycoside antibiotics (such as tobramycin), and due to platinum-based chemotherapy. SPI's clinical data from two completed multi-center, randomized, placebo-controlled studies (Phase 1b and Phase 2b clinical trials) showed that oral delivery of SPI-1005 for 21 or 28 days improved sensorineural hearing loss and tinnitus in patients affected by Meniere Diseases. These improvements in auditory function further support the use of SPI-1005 to treat sudden hearing loss, noise-induced hearing loss, and age-related loss where sensorineural hearing loss and tinnitus are prominent features.
Also, Sound Pharmaceuticals has recently announced that the FDA has allowed its pivotal Phase 3 clinical protocol for SPI-1005 in the treatment of Meniere's disease patients (STOPMD-3). STOPMD-3 protocol will be conducted at over 16 US sites. Furthermore, the FDA has granted SPI-1005, fast track designation for Meniere's disease treatment.
Media Contact
Company Name: DelveInsight
Contact Person: Priya Maurya
Email: Send Email
Phone: +919650213330
City: Albany
State: New York
Country: United States
Website: https://www.delveinsight.com/