Author Kevin Jessup launches his book "Don't get sick" providing practical information on prevention against Covid-19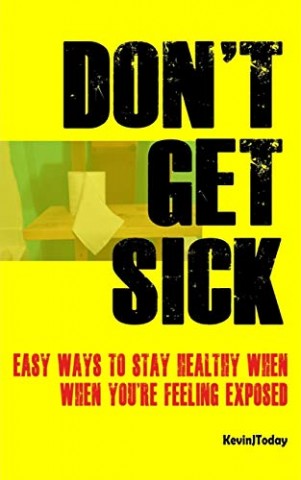 The book "Don't Get Sick" features easy routine suggestions to stay healthy, and prevent diseases while still interacting with people and living full and happy lives. It highlights topics like whole person hygiene, stress, rest, and health routines, as well as how fear and apathy affect health. The reader will discover hands-on information and easy ways to reduce unhealthy worries as they read through the book. Some of the chapters in "Don't Get Sick" also cover the effect of stress on health, what types and amounts of stress are healthy for us, and how to handle multiple forms of stress to remain healthy.
The world is coping with one of the most severe pandemics that most people alive today have not experienced. Millions of lives across the globe have been affected by the Covid-19 virus, and a large percentage of those lives have been lost. The hype related to the virus is overwhelming. A vast amount of information, presented in multiple forms of media is flooded into the global public awareness daily – through newspaper, television, and social media. It is hard to figure out what to believe and what not to. While governments worldwide have issued a series of fixed guidelines and suggestions for daily living to address the Covid-19 pandemic, the world still lacks broad ranging, real-life solutions related to remaining healthy while still living active and meaningful lives. To answer this need, author Kevin Jessup has launched his latest book "Don't Get Sick: Easy ways to stay healthy when you're feeling exposed" to provide practical information – suggestions and exercises to help people thrive while also defending the safety of themselves and their loved ones.
The book is a collection of comprehensive information sections, do-able lists, self-inventories, and exercises to boost health and immunity while living your life normally. It covers various topics that are focused to enhance the mind, body, and spirit. Suggesting that preventing the illness is not enough and maintaining overall health and wellbeing should be our focus, this book describes practical ways, following which the readers can achieve optimum health.
The book encourages the world to stop the constant pressure people put on all the areas of their life, inviting sickness and disorders onto their total being.
About Author:
Kevin Jessup is a licensed Trauma Counselor living in the Sonoran Desert, located in the southwestern United States. Over many years of teaching, coaching and speaking, he has shared his life-changing message with people in community clinics, private and public hospitals as well as residential and outpatient treatment centers. He has also shared his valuable knowledge and counseling skills to Armed Forces, and State, Federal and academic institutions. At present, he is also a Graduate Program Instructor in Arizona. Kevin has transformed the lives of many people regardless of their age, gender, or background. He sends a universal message to all, stating "You are the EXPERT in your own life!"
The book is now available for purchase on Amazon.com at the following link: http://www.amazon.com/dp/B0871PPHYD
Media Contact
Company Name: KevinJToday
Contact Person: Kevin Jessup
Email: Send Email
Country: United States
Website: www.KevinJToday.com