Three friends use their 50 years of collective restaurant experience to create an exciting card game; available now on Kickstarter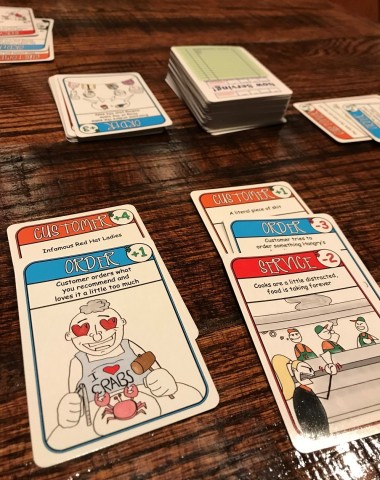 Now Serving!™ is an exciting new adult card game created by three friends, having a collective experience of over 50 years in the hospitality industry, doing all kinds of work, from dishwashing to managing the restaurant. To provide a glimpse into the lives of restaurant employees, they have built a card game and launched it on Kickstarter to raise $10,000 by May 2nd, 2020. This card game is for anyone who has ever wondered, what it is like to be a server, and wants to witness the chaos in a busy restaurant with a chance to make fun of the customers they wait on!
Now Serving is an easy to learn card game that ensures a super fun time with friends and family members. While those in the service industry will find this game pretty relatable, the others will find enjoyment role-playing as restaurant employees, as they try to sabotage their friends and steal their hard-earned money in their pursuit to win the game. The players in this card game will be serving in America's favorite restaurant, Hangry's. They will need to use their sharp wit and a clever strategy to come out on top with the most money at the end of their shift.
The idea of the game is to open and close as many tables as possible. The players will play the cards in this order: Customer, Order, Service, Tip (C.O.S.T.). Each player will begin with 7 cards and when it's their turn, they will have two options: play one of the cards that they have in their hand, and/or draw a card. To win the game, the players can also try to sabotage their friends' tables by introducing 'negative cards' to reduce the amount of money they have earned.
Every Now Serving!™ deck will consist of 100 cards, including 20 cards each for Customer, Order, Service, Tip, and Event. Each card represents some type of customer, or experience that any seasoned restaurant employee could tell you about. Some cards have language not suitable for those under 18.
Now Serving!™ can be pre-ordered through its Kickstarter campaign.
Facebook: https://www.facebook.com/nowservingthegame
Media Contact
Company Name: Party Crash Games LLC
Contact Person: Benjamin Shoemaker
Email: Send Email
Country: United States
Website: instagram.com/nowservingthegame