Biological Seed Treatment Market: Drivers, Restraints, Opportunities, and Challenges
The biological seed treatment market is projected to reach USD 1,251.4 Million by 2022, from USD 739.3 Million in 2017, at a CAGR of 11.10% from 2017.
The report "Biological Seed Treatment Market by Type (Microbials and Botanicals), Crop (Corn, Wheat, Soybean, Cotton, Sunflower, and Vegetable Crops), Function (Seed Protection and Seed Enhancement), and Region – Global Forecast to 2022″, The biological seed treatment market is projected to reach USD 1,251.4 Million by 2022, from USD 739.3 Million in 2017, at a CAGR of 11.10% from 2017. The market is driven by factors such as high demand for sustainable agriculture in the global market, lesser risks of exceeding pesticide MRLs, and insurance to seed investments.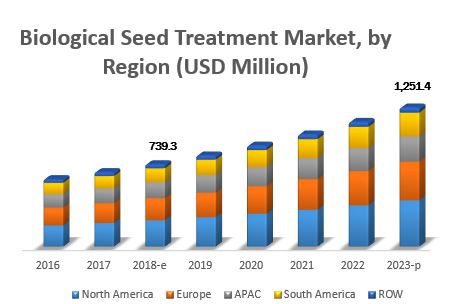 Download PDF Brochure: https://www.marketsandmarkets.com/pdfdownloadNew.asp?id=162422288
Serves as insurance to seed investments
The commercial seed industry has been gaining better acceptance among crop growers, as the demand has been shifted toward commercialized seeds from open-hybrid and farm-saved seed varieties in many countries across the globe. Biological seed treatments have gained significant accomplishments in product developments with respect to biological coating and achieving crop efficiency at early seedling stage. Further minor innovations and improvements in product shelf-life can help in its evolution into becoming a more reliable product.
Today, these biological seed treatment products not only help in protecting the seeds, but also help in acting as seed enhancers, whereby, improving crop yields. The basic function of the initial biological seed treatment was majorly to control certain soil pathogens that affects seed performance. However, this has evolved greatly over the years and become much more complex in nature. Changes in different formulations and active ingredients have now aided these seed treatments to have a broad spectrum of protection from insects, diseases, and nematodes, with different combinations of insecticides, fungicides, and inoculants. Even though there have been field trials by key manufacturers such as BASF utilizing seed-applied agricultural inoculants to analyze the crop yields, the results are not much higher as expected due to the need to study further about the enhancing the interaction between the seed and the inoculant during sowing stage.
This has highly assisted in the reduction of biotic and abiotic stresses on the crop. Protection of the crop from abiotic stress could result in an improved seed vitality, increased stress tolerance, and aid in higher nutrient uptake. This will in turn enhance plant emergence, foliar growth, and nutrient utilization efficiency, while providing the crop with essential protection. These factors highly propel the assurance of a good crop yield, and act as an insurance to the investments made by the farmers on different seeds. Therefore, this remains as one of the most potent drivers for the commercialized seed industry in the coming decades.
The adoption of biological seed treatment products in emerging markets of India, China, Brazil, and Argentina has been expected to witness significant market growth based on the product launches of important players such as Bayer, BASF, and DuPont Pioneer. Over the last decade, there has been an increased demand for food and feed in emerging countries. As a result, there has been an increase in the demand to improve crop yield and utilize highly effective seed treatments in countries such as Brazil, which being an early adopter of these products, has led to some manufacturers to launch new biological seed treatment products in the region. For instance, Syngenta's launch of EPIVIO brand of seed-applied biostimulant products in Brazil in 2016 for soybean, which was followed by their market outreach to corn growers in China.
High costs associated with biological seed treatments
While investing in commercialized seeds, farmers spend more than what is invested in for traditional seeds. These costs further increase when expenses are made specifically for genetically modified seeds (GM) seeds or hybrid seeds. Although such GM seeds assure farmers with better yields, the higher supply of GM crops, especially corn and soybeans, and increased demand for non-GMO foods, have led to a decline in the prices of these crops. Additionally, despite such seeds assuring better yields, farmers are still required to spend on crop protection products such as pesticides and herbicides, which further increase farmer costs. These production expenses make it very difficult for farmers to further invest in seed treatment products, which act as an insurance to better yields.
Bioencapsulation technologies for improved environmental persistence
Research and developments in the field of agricultural practices have been moving toward the production of inoculants, which could eventually lead to the advent of improved and advanced formulations to ease application processes and improve the viability of products. Conventional forms of formulations, solid or liquid, lead to several problems related to the low viability of microorganisms during the storage and application process. However, this problem can be addressed by the immobilization of microorganisms. This immobilization highly improves the shelf-life and efficacy of the formulation, keeping it viable for a longer duration. Bioencapsulation technologies could also result in a controlled microbial release, thereby improving application efficacy. Such technologies have the ability of greatly improving the persistence of biological seed treatments in the soil environment and thereby, leading to a thriving market for the product.
Request for Customization: https://www.marketsandmarkets.com/requestCustomizationNew.asp?id=162422288
Limited shelf-life
Biological seed treatments aimed at seed protection provide targeted control of certain pests and fungal diseases during the early seedling stage. Very low amount can also affect the efficacy of these seed treatments when the pest pressure remains very high during the important stages of crop establishment.
The effective period of biologicals in the seed treatment is also very short-lived which makes the product unattractive for the crop growers. Most of the products available in the market cease to remain viable after a certain period of time which completely incapacitates the product, and this can also make the products ineffective even without reaching the crop fields.
As the short life-span of these biologicals can hinder the market growth, some players in the biological and polymer coating sectors have been developing encapsulation technologies that can preserve the microbials for a longer period. In order to counter these measures, customized services from seed suppliers at farm fields during the pre-sowing period can serve as temporary solution for the crop growers.
In the case of botanicals with higher molecular weight, the active ingredient cannot be uniformly coated around vegetable seeds which have smaller physical size and shape. Pelleting techniques can help overcome this situation in increasing the surface area of the seed to apply biofungicides and bioinsecticides.
Media Contact
Company Name: MarketsandMarkets
Contact Person: Mr. Shelly Singh
Email: Send Email
Phone: 1-888-600-6441
Address:630 Dundee Road Suite 430
City: Northbrook
State: IL
Country: United States
Website: https://www.marketsandmarkets.com/Market-Reports/biological-seed-treatment-market-162422288.html