The Perfect Jug is the all-in-one food and water container that makes life easier on the go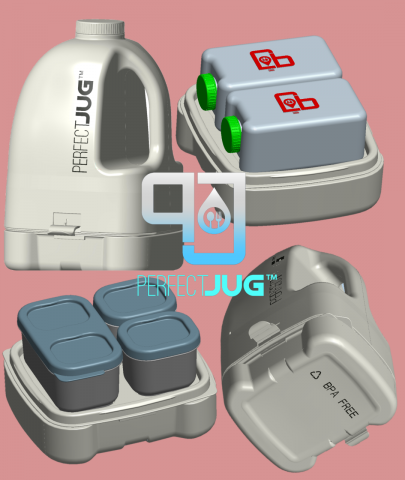 The Perfect Jug is the brand new and an innovative product launched on the crowdfunding website Kickstarter that is designed in such a way that it can hold up to 1.7 L of water as well as snacks, fruits, salads, and other food items. The product aims to raise $80,000 and has received a good initial response from the backers. It is a highly functional food and water storage container designed for work, gym, hiking, picnic and traveling.
The Perfect Jug is shaped like a gallon jug and made of 9 pieces, including the upper jug that holds 1.7L of water with 2 retaining clips that secure the bottom containers fitment. The 3 small containers at the bottom of the jug can hold food items and are tightly secured into the lid to avoid bouncing. Right below it, there is the lower larger container that can hold meals securely. In addition, the jug comes with 2 refillable 10oz ice packs that can be used to keep water and food cold during travel. The small containers are covered using a square bowl, which can also be used to the eat out of while on the go.
The lower portion that contains all food storage is press-fitted into the upper jug and also uses clips to ensure a secure fitment. The Perfect Jug is made of high strength BPA free plastic and is microwave and dishwasher safe. The food containers can be separated easily and refrigerated or microwaved if needed. The Jug is durable and cracks resistant due to the use of high-quality PP plastic and sturdy construction.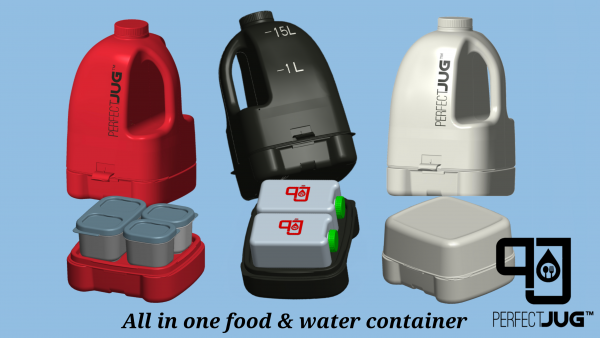 The Perfect Jug is designed and created by CJ Steiger, who also created Gallongear, one of the hottest fitness product in the market that sold about 150,000 units online in the last 4 years. He is currently working on his latest product The Perfect Jug for which he has revamped his warehouse, with inventory to allow future growth. The success of the fundraiser will allow him to cover the cost of LLC registration, production, manufacturing, and marketing of the product.
The backers can pre-order The Perfect Jug in Red, Black or White colors by contributing $35 to the campaign. Each product will be composed of 1 x 1.7L water jug, 3 x small food containers, 2 x large food container and 2 x refillable ice packs. The estimated delivery is December 2019. The product will be funded if it reached its fundraiser goal by August 16.
More information can be found at Kickstarter.com.
Media Contact
Company Name: Perfect Jug
Contact Person: Michael Steiger
Email: Send Email
Country: United States
Website: www.kickstarter.com/projects/perfectjug/perfect-jug-all-in-one-food-and-water-container/description